Daniel Avery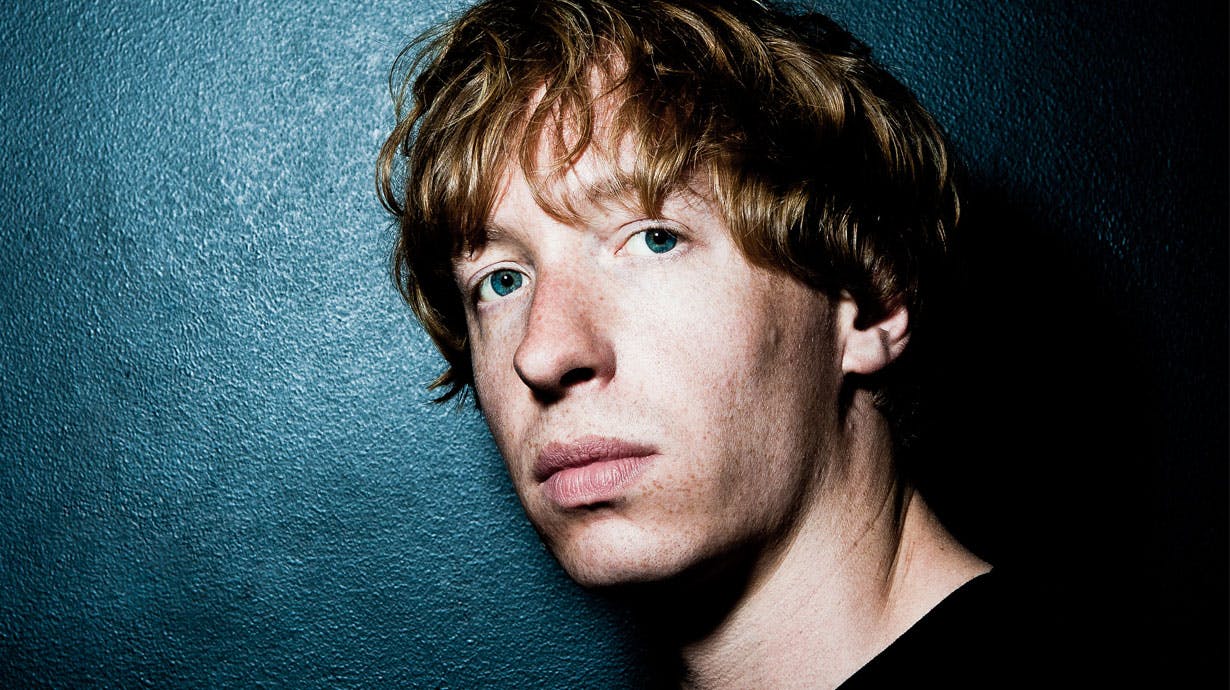 British producer/DJ Daniel Avery has just released one of our favourite electronic records of 2013. We called him to find out more about his musical background, and the inspirations behind his debut album, Drone Logic.
What's your earliest musical memory?
I don't know exactly but there was always music on in my house as a kid. Always. My dad was – and remains – obsessed with music. I definitely remember hearing New Order at a very young age, and really liking the choruses and singing along.
What was the first record you bought?
With my own money, I think it was probably Master Of Puppets by Metallica. I loved all that.
So guitar music was your first love. Who were the key artists for you?
New Order were definitely a big one and, when I was a bit younger, The Smashing Pumpkins. I really liked Death In Vegas too. They were someone that I discovered on my own, and for that reason they really meant something to me. My Bloody Valentine as well. They were another a band that I stumbled across and fell in love with straight away.
When and how did you make the transition into DJing?
I was 18, so 10 years ago. I grew up in Bournemouth and when I first started going out I wasn't finding anything that I vaguely liked. It was all either chart music or really cheesy handbag house that I just wasn't into one bit. It wasn't until I found an alternative night called 'Project Mayhem' that, as soon as I walked in, I felt like I'd found my home.
They would play things like Gang Of Four and ESG but also their modern equivalents, and a lot of the early electroclash records, like Felix Da Housecat and Miss Kittin. So I'd go to that every single week and, by chance, I saw an advert in a record shop saying that they wanted a warm-up DJ. I had absolutely no idea I wanted to be a DJ, but I went for it and got the job straight away. The second I started doing it, I fell in love with it.
I've always been obsessed with music, but also the most amazing thing about music is sharing it with others. So I used to make mixtapes for all my friends, or we'd be up all night putting records on for each other, like, "Have you heard this track?!" And the second I started DJing I felt like it was the same, but louder and in a more public space.
You're now signed to Erol Alkan's label, Phantasy Sound. Having been into electroclash, it must have been quite a thrill when you met him.
It was. He was the first DJ I connected with. I'd go see him at Trash, or listen to his radio show where he'd be playing all the interesting guitar music I was into, and also all of the electroclash stuff. At the same time, by going to see him at Bugged Out or the other events where he was playing straight-up, electronic, techno music, I was just introduced to an entire new world that I didn't even know existed. It blew my mind. So it's really cool to have come full circle, putting an album out on his label. It feels right.
How did you meet in the first place?
Probably just by being that guy who hangs out at gigs a lot. I was going to see him DJ all the time and we mixed in similar circles. I've been friends with him for quite a while now, and it was about 18 months ago that he encouraged me to start making music for his label.
And that's how the album came about?
Well, I made the track 'Drone Logic' for Andrew Weatherall to play because he, alongside Erol, has been such a big influence. I'd met him a couple of times before so I had access to him basically, and I just wanted to make a track that he might play. So I made this track which I was really happy with, gave it to him and he called me the Monday after to tell me he'd done a gig that weekend and my track was the biggest record of the night.
It was just the most amazing buzz, and gave me a huge amount of confidence. So I immediately called Erol up, really excited, to tell him what happened and Erol said, "I think you should start thinking about an album." And I knew from that instant that the album would be called "Drone Logic": it summed me up. And that track was the anchor for the rest of the album.
Is that your favourite track on the album?
In as much as it's what spawned the album, probably. It was the first track that I felt 100% happy with – I felt like I nailed it.
How do you think your grounding in guitar music has informed the music you make now?
Well, I definitely don't want anyone to think that I've made a dance-meets-rock record. I'm not interested in that at all. I wanted it to be a good summary of what I've done for the last year, which is spend the weekends DJing in nightclubs. So it was definitely made with the club in mind, and that's why it's predominantly a dance record.
But I did want to somehow implement the hypnotic elements – the beautiful drones – of shoegaze or Krautrock music in my tracks. It was a big moment when I decided to start putting my machines through guitar pedals in the studio. Suddenly I found I was able to realise a lot of the sounds I was hearing in my head.
Were there influences outside of music that inspired the album? Film, say? Or literature?
I can't think of specific examples, but definitely. I wanted this album to be a total trip, and I think that everything I was reading and watching at the time had that element to it.
My favourite books and films are those you get locked within, and you feel like you've been somewhere by the end. And a lot of them have a real psychedelic edge to them. I like patient films too. I mean, I'm not into art that immediately gives you what the main core of the audience wants; I don't care what the majority of people want, most of them are idiots. I want something that has enough confidence to say, "This is where we're going, it's going to be amazing. You can come with us if you want, but don't rush us." (Laughs)
That is sort of the attitude I took to making the album. There are no guest vocalists on it, there are no immediate pop hits and the tracks are pretty long, but I wanted to have something that reflected me. It was a statement: this is me and you can come with me but this is happening at my pace.
You say there are no chart hits, but it's still an accessible album.
Yeah, I didn't want it to be obtuse in any way. And because I got to go DJ every weekend with it, every demo was road-tested really thoroughly. In that sense I knew that the songs worked on a crowd because I'd seen it first-hand.
Electronic music in general has had a massive mainstream resurgence recently. Have you noticed that the audiences are changing in the clubs?
I think they're getting bigger. Obviously, you can walk into certain rooms in certain clubs and be a bit disheartened by the fact that people are now coming that are the equivalent of the kids that I didn't like at school. But at the same time I feel extremely lucky because I rarely have to play to a crowd that I don't like.
I actually think that the whole electronic scene is really healthy at the moment. And if a kid were to discover dance music through Deadmau5 or Swedish House Mafia, I think they're kids who are going to want to explore a bit deeper afterwards to find out where other things come from. Basically, despite my initial whinge there, I think it's quite positive!
Do you have time for acts like Disclosure?
Yeah, I've got no problem with them at all. I think they do what they do really well. It's not the music that I like or choose to listen to, but they're a good example of people who've done it properly. There's a certain quality to what they do; you can tell they're talented.
So what's the plan for the rest of the year? Any more remixes?
I've just got one remix I'm doing for Factory Floor, of 'How You Say'. I love Factory Floor. They're my favourite new band so I'm really excited about that. I'm just about to start producing a new band from LA too. I can't tell you what they're called yet but they're sort-of psych-rock. And then just DJing a lot. I'm loving DJing more than ever at the moment.
Are there any plans to revive your club night, 'Movement'?
At some point, hopefully. Matt [Walsh] and I have just been really busy. I do like the idea of having a little venue that I can play fairly regularly, because I love playing small venues. I did my album launch event at the Dance Tunnels and I loved it so that place would be really perfect.
Finally, what's been the highlight so far?
I must admit that right now is a pretty big highlight. This album, that I spent so much time on and put so much energy and thought into, is finally in the hands of other people and they're really into it. The reaction has been so much more than I could ever have hoped for.
October 2013