Melanie C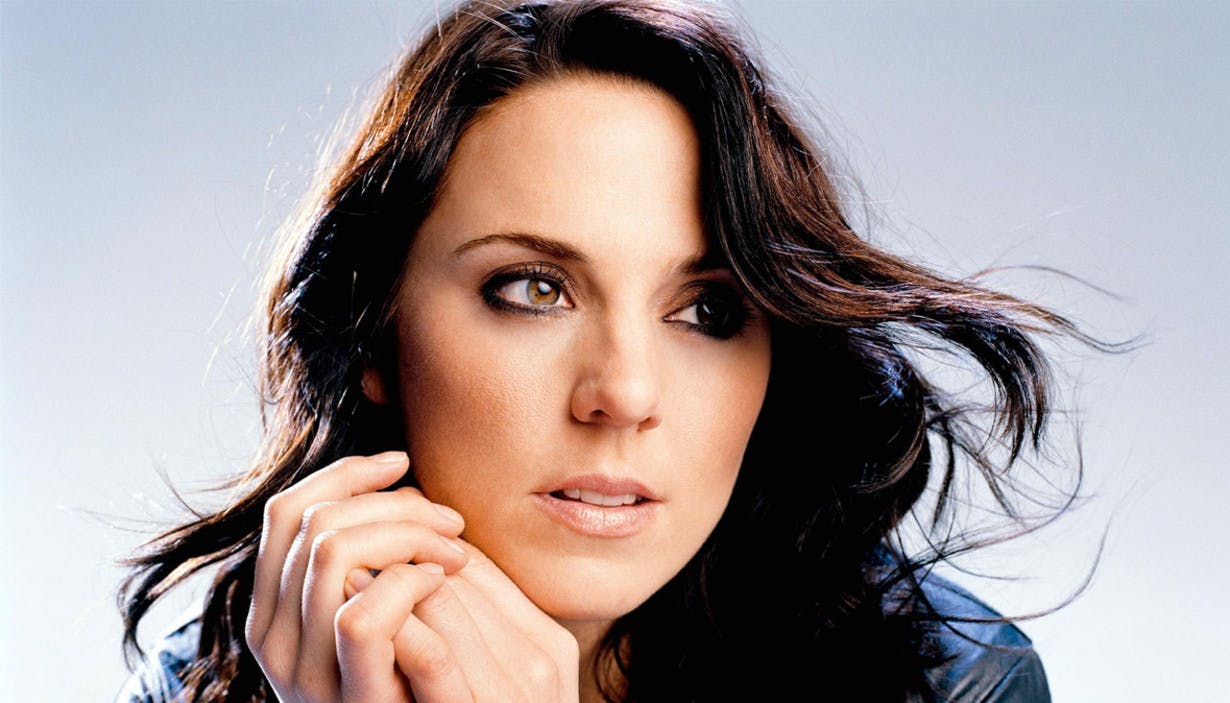 While Spice Girls fans celebrate the 20th anniversary of 'Wannabe', Melanie C is resolutely forging forward, releasing her seventh studio album. Here, she tells the story behind Version Of Me, sets the record straight regarding her supposed feud with Little Mix, and shares some vintage Spice Girls stories.
So you're releasing your new album through your own label – that's girl power right there.
Haha, it certainly is, isn't it?!
You must have a good head for business after all this time.
I don't think it comes naturally to me. Back in the early days of the Spice Girls, we knew nothing. But we were thrust into this world where we were having to have meetings with lawyers and accountants, and I just thought, "Do you know what? I've got to get my head around this." So I'm not an expert by any means but I've always tried to have an understanding. And I think that's important in anything you do, especially at my age; you need to take some responsibility for yourself.
Absolutely. A lot of people immersed in that world are caught out by the machinations of the industry. Were the Spice Girls wise to that back then?
Yeah. You know, I think it's important. It's quite tedious when you're quite young: you don't want to be sat in your lawyer's office, you want to be out there having fun. But yeah, you do have to be careful because you hear the horror stories, don't you?
Tell us about Version Of Me. What prompted the move into electronic sounds?
I really wanted to make an electronic album, and I wanted to make an album that I would buy now. I've always been a pop artist but I've experimented in the past. I've loved doing a little bit of rock, something more R&B, and acoustic stuff, but this time I was thinking about lots of bands and albums that I keep going back to, like Massive Attack and Portishead and Zero 7. And then I was looking at what the charts are like now, and there's loads of dance stuff out there. I love The Weeknd, and DJ Snake, and Major Lazer, and Sia, and Jack Garratt, so [I was] just taking all of those elements and being inspired by that. And then, with my voice – which is quite distinctive – it was fun finding this whole new thing that worked for me.
Tell us the story behind the album title.
Well, there's a song on the album called 'Version Of Me' and I felt like it was a good album title because every time I've made a record, it really feels like it's an expression of myself at that time. As well as that, I feel like we have many versions of ourselves. How I behave in front of my parents is very different to how I behave in front of my friends down the pub, you know? So I do think we have these versions of ourselves and it just felt very fitting for this record.
How has becoming a parent influenced your creativity?
It's changed me completely, I like to think for the better. I have this huge responsibility and it's given me confidence. It's put loads of things into perspective: it's allowed me to be more courageous. Don't get me wrong, it's really hard work – I think all mums would agree – but it is the most rewarding thing. I think it's made me a better performer and a better songwriter, really. I have more of an understanding of love and affection and all of those things that come with it. I think that also comes a bit with age. But it's really liberating to care less what people think. I still do worry, don't get me wrong, but when I think back to my younger self I wish I could have just given myself a shake and said, "Just get on with it." (Laughs)
Or just be a bit kinder to yourself?
I think that's really important actually. For people in general, but especially for women and young girls, we're always putting ourselves down and we should celebrate ourselves.

That's interesting in light of the recent controversy surrounding your comments about Little Mix, no?

Well, you know, unfortunately I was in an interview with a journalist from the Mirror who was telling me all about Little Mix's new campaign and how provocative they thought it was, and my response was, "Oh that's a shame, if that's the case." But obviously that isn't a good enough headline, so I feel a little bit like words have been put into my mouth. I haven't seen any of the new Little Mix stuff. I love them – I'm a big fan and my little girl is too – but I'm a mum as well so I do have to protect my little girl; I don't want her to see something that's inappropriate. But Little Mix are young women in their twenties now. I can't tell them what to wear, it's their own decision. So it's a tricky situation that I find myself in sometimes.
It must be frustrating having your words twisted out of context? Or have you become resigned to it happening?
Mhm, oh so used to it. But you know, it's difficult now because obviously we have the wonders of social media. So I've got quite a lot of hate on social media from Little Mix fans and I didn't really criticise them, so that's quite upsetting.
To have such longevity in such a fickle industry is incredible. You must have developed a thick skin?
Do you know what, some days I've got a thick skin. Like everyone, I have my good days and I have my bad days. Sometimes I will look on Twitter and see someone criticising me and it really hurts. And then other days I just laugh at it. But I think we've all found ourselves in that position now: with having social media, everybody has a voice and an opinion. We live in a culture where – after things like The X Factor – it seems to be quite acceptable to criticise people openly. (Laughs) Which I think is a shame. We used to just talk behind each other's backs, didn't we? (Laughs)
Can we go back and talk a bit about the Spice Girls. The MTV EMAs return to Rotterdam this year, for the first time since 1997 when the Spice Girls beat Oasis, The Prodigy, Radiohead and U2 to Best Group.
(Laughs) That is ridiculous, but brilliant. I love it. I mean, those days were insane. What a laugh! (Laughs)
There must have been so many award shows, but can you recall that one at all?
I do remember that one actually because it was quite a significant one: we'd decided to leave our manager in Rotterdam that night. So we were performing 'Spice Up Your Life' and we had our plan, but at the time our PA was employed by our management, and we thought we needed all of our contacts. So, in true Spice Girls style, we stole our PA's filofax. And Geri had this little tapestry handbag thing and she did the whole of the soundcheck and performance rehearsal with this bag over her shoulder, because it contained the PA's Filofax. (Laughs) We were so giddy.
Obviously, it was a huge decision that we'd made, and we were terrified but we'd all come together. I think it was at a time when things were quite fraught between us. We'd been through so much and the world around us had gone so crazy that that was something that brought us together. So we kind-of found that kinship that we had in the early days – the mischievous side of the Spice Girls – that night. There were gonna be ramifications, obviously, but we kind-of didn't care. We were just giddy. (Laughs)
Well we'll bring you back to earth with a bang: guess who beat you to Best New Act?
Oh gosh... Aqua?
Ah well, they were good though. They made a bit of a comeback over the last few years, didn't they?
They did actually. And they were unrecognisable, with short hair.
And stubble. (Laughs)
Having both been very clear about why you don't want to be part of a Spice Girls reunion, do you think it's brought you and Victoria Beckham closer together?
Erm, I suppose it's natural, isn't it really? There's still a great fan-base out there for the Spice Girls and when you've said no to doing something Spice Girls-related, it's hard because you do get a bit of flack. So it's natural for us to have each other as support, but I don't have an issue with any of the girls. We do have this bond that will never be broken. Yes, we have our ups and downs, but we're grown-ups now so we respect each other and each other's decisions.
You've been so fair about it too, even apologising to the fans. Do you never get indignant, like, "It's my life, I can do what I want!"?
Well, sometimes you wouldn't think that. One of my favourite things [was] when I did the piece for Love Magazine to explain my reasons behind not wanting to get back on stage with the girls at this point. Somebody tweeted me, "Selfish." (Laughs) Which I just thought was hilarious, like, come and walk in my shoes. (Laughs)
Have you shared the new music with the girls? Do you usually?
Do you know what, isn't it funny that I haven't really. It depends if the opportunity arises. I did see Victoria, probably about two months ago, and I played her some demos and she was really excited. So that was nice. But it just depends who's around and who I'm hanging out with.
Where would you rank Version Of Me with your previous solo albums?
Ooo... I think that would be really hard to say. My first album was such an exciting time for me. I was so lucky to work with incredible people like Rick Rubin and William Orbit, and Rick Nowels, who actually I've worked again with on this album. The first album is a very special record to me. But there's something about this one that does feel very special.
I think the main reason for that is because I've been so ruthless. I have quite a small team of people [around me] and with this particular record I've listened to what people said but I've followed my own heart with it, whereas sometimes [in the past] I might have been swayed, or compromised a little bit, because I doubted myself. This time I've just gone, "No. I've got nothing to lose." People keep asking me what my favourite song is, and I can't pick a favourite because if the song wasn't up to scratch it's not on the record.
October 2016