Girl Ray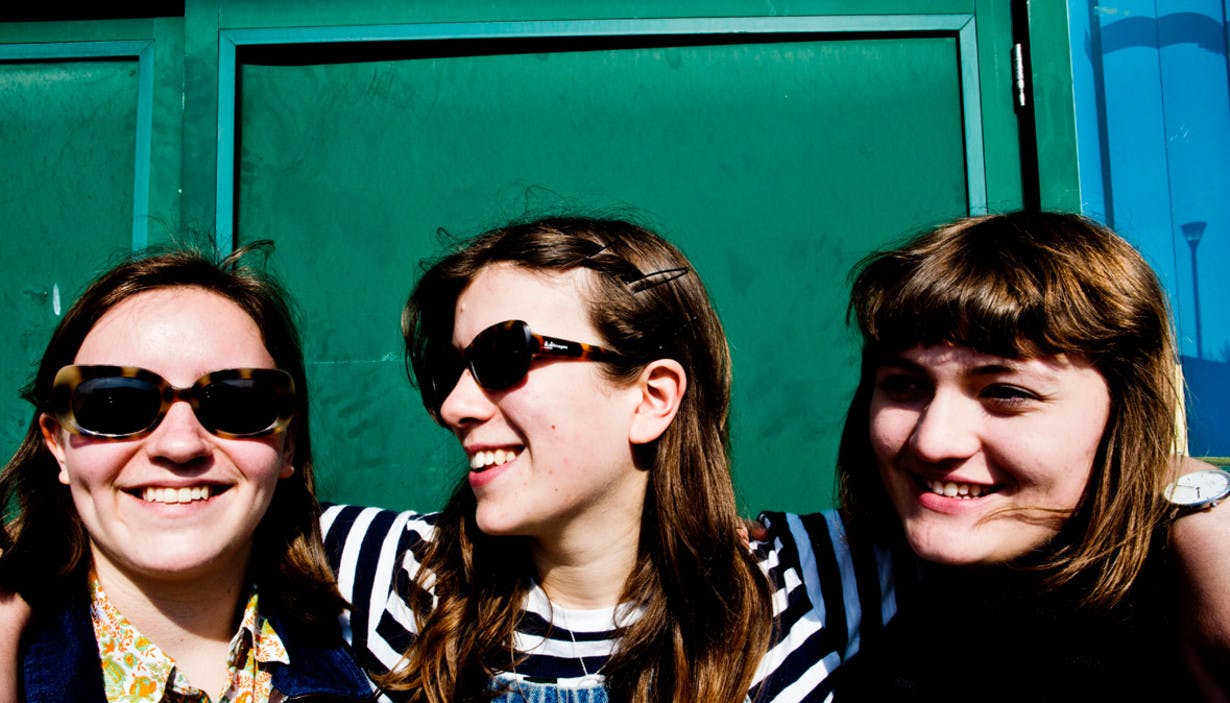 Indie-pop trio Girl Ray had barely finished their A-levels when they recorded their debut single for Moshi Moshi, and less than a year on they now boast a critically-acclaimed debut album. Here, singer Poppy Hankin and bassist Sophie Moss discuss the band's beginnings, karaoke mishaps and 00s pop.
Hi guys, how was the Art Is Hard party last weekend?
Poppy Hankin: It was really, really fun, yeah. Iris [McConnell, drums] lost half her tooth at karaoke because I slammed a microphone in her face, but it was alright. As you might hear, I've lost my voice a little bit, so it was a challenge to sing but it was still really fun.
What song were you singing at karaoke when the injury happened?
PH: We were about to sing 'Murder On The Dancefloor' and we were so excited, and then I turned round to put the microphone to her face and knocked out half of her tooth. So yeah, it was murder on the dancefloor. (Laughs)
How has festival season treated you this year?
Sophie Moss: Pretty good! I got rained on a lot but that's kind-of expected. But yeah it's been really good in general.
PH: Glastonbury was really fun. It felt so hardcore and draining and intense in every way, but in hindsight it was just so much fun.
In the excellent video for 'Don't Go Back At Ten', you reference early 00s pop. Are you pop fans?
PH: Yeah,I'm a real pop fan. Sophie not so much. You know when you get so obsessed with a song that you dream about it, and you can't stop listening to it like it's an addiction? Well, I haven't had that in a long time but then I listened to 'Feels' by Calvin Harris and Pharrell Williams, and I was in bed at 3am and I couldn't stop thrusting to it. (Laughs) On the 30th listen I just think it's amazing.
You met at school, right? Can you remember your first impressions of each other?
SM: I remember it was at this poetry night. My poetry didn't make it in, but I did the backing music on classical guitar so whenever anyone recited poetry I'd be playing guitar. (Laughs) I remember Poppy did a poem about The Beatles.
PH: Did you play through my poem? I should have told you to shut up. (Laughs) I remember that night as well. I was quite intimidated by Sophie because my first impressions of her were when we went to rock club in the first few weeks of secondary school. I went with this friend I was walking to school with and she was playing the clarinet or something, and I was playing the guitar. But the only other people that were there were you and two of your friends and you were jamming together and I was really jealous. I was just over there on the keyboard trying to impress you. (Laughs)
So is Girl Ray your first band?
SM: I've been around town. No proper ones though. Me and Poppy and Iris were in a band before this one. It went by the name Ghosty Mo, named after this guy who went to my primary school; his name's Mohammed but he changed his name to Ghosty Mo on Facebook and we thought that was a really cool band name. But yeah, we just covered Strokes songs and then I wasn't dedicated enough. I didn't want to do the Christmas concert and Poppy kicked me out.
PH: (Laughs) I'd had enough.
How did your friendship bounce back from that?
PH: It was hard, wasn't it?! We went through a period of not speaking. Do you reckon that's why we weren't friends for a few years?
SM: Yeah, probably. I was actually really hurt. I got into a really embarrassing band called Conch after that.
When did you first start writing music?
PH: Well actually, I remember when I was 11 finding lyrics I'd written when I was about six. I didn't play any instruments but it was just notes of a song I was probably singing to myself, in which I was a fireman and I'd saved this woman's life? (Laughs) But when I really started writing songs was when I first picked up the guitar when I was about 11. I was too lazy to remember the chords to any songs so I had to start making my own.
SM: I wrote a song when I was 12 called 'The Highway'. I actually played it front of a lot of people at a school concert. It was really embarrassing.
So for the benefit of people who are yet to hear it, what can people expect from your debut?
SM: A fair amount of jolliness. Not lyrically, but it's pretty upbeat. And some weird stuff? The 13 minute song throws people off from what I understand.
PH: I just think, you're either gonna like it or not really, so just give it a listen. (Laughs) It's dangerous talking about influences but we're all big fans of Gorky's Zygotic Mynci and The Beatles and The Beach Boys.
The critical reception must have surpassed your expectations?
PH: Yeah. When we were making it I didn't really think about the reviews as being a big thing, but obviously a lot of people have reviewed it and it's mostly nice stuff. So yeah, it's good. Although I don't really like being analysed so much. Sometimes it's interesting to hear people's takes but I don't like it when it's negative. (Laughs) People can be a bit savage sometimes.
But Iggy Pop's a fan, right?
SM: Oh my god, yeah. He played us on his radio show, which was pretty amazing.
Any other pinch-yourself moments?
PH: I definitely do have pinch-myself moments quite a lot. There was a time just before the album came out... We were so busy with playing shows with bands that we were in love with, we had this album coming out and it was really exciting. And there was just a moment where it was like, this isn't a work in progress anymore, this is happening and it's beginning to get a bit successful. Because we would always talk about success as an "if", but then suddenly you're like, oh hold on, quite a few people know us and like our music.
It's not even a year since your single 'Trouble' came out. How have your expectations for the last 12 months compared to the reality?
SM: I don't know if we had that many expectations – we were just happy to do anything they wanted us to do
PH: I think we were just so excited with what was going on at the time. There were talks of an album at some point, but when we recorded 'Trouble' that was the first time we'd been in a proper studio. We'd just finished our exams when we recorded that, and there was a lot of stuff happening.
What are your plans for the rest 2017?
SM: This year we're taking our first trip to Europe, which is gonna be cool – like a mini EU tour thing. And we're doing a UK tour around the end of October and early November. Hopefully we'll be recording some singles. Maybe a Christmas song...
Seriously?
PH: It's written!
Girl Ray are on tour:
03 Sept - End of The Road Festival
16 Sep – Good Life Festival
30 Oct - Liverpool - Liverpool Music Week
31 Oct - Leeds - Headrow House
01 Nov - Manchester - Gullivers
02 Nov - Glasgow - Broadcast
03 Nov - Newcastle - Think Tank Underground
05 Nov - Birmingham - Hare & Hounds
06 Nov - Oxford - The Cellar
07 Nov - Bristol - Louisiana
08 Nov - Brighton - Green Door Store
09 Nov - London, The Scala
13 Nov - Berlin, Monarch
14 Nov - Hamburg, Goldener Salon
15 Nov - Cologne, Bumann & SOHN
16 Nov - Trier, Exhaus
September 2017