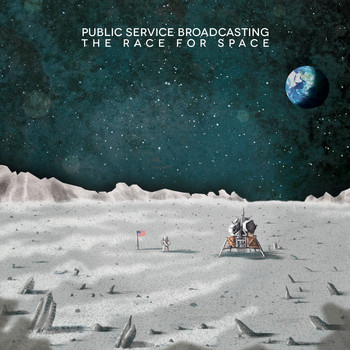 Preview The Race For Space
Record Label:
Test Card Recordings
7digital

What we said:

In an overcrowded market place, possessing a strong USP is the secret to standing out. London duo Public Service Broadcasting discovered theirs in 2009, when they decided to splice snippets of archive radio broadcasts and public information films into their songs. Two years on from debut album Inform - Entertain - Educate, J Willgoose Esq and Wrigglesworth are now telling the story of the space race via the medium of Krautrock and funk, complete with crackling audio clips from the original Apollo missions. The result is a record that's consistently fascinating, frequently sonically inventive and often unexpectedly moving. If only all history lessons were this entertaining...
| Track Number | Track Title | Track Length | Track Price/Buy Link |
| --- | --- | --- | --- |
| 1 | The Race For Space | 2:39 | |
| 2 | Sputnik | 7:09 | |
| 3 | Gagarin | 3:48 | |
| 4 | Fire in the Cockpit | 3:01 | |
| 5 | E.V.A. | 4:15 | |
| 6 | The Other Side | 6:19 | |
| 7 | Valentina (feat. Smoke Fairies) | 4:29 | |
| 8 | Go! | 4:12 | |
| 9 | Tomorrow | 7:22 | |
Duration:

43:14
Genres:
℗ Test Card Recordings
© Test Card Recordings