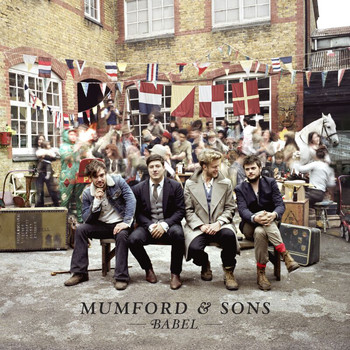 Preview Babel (Deluxe Version)
Record Label:
Universal-Island Records Ltd.
7digital

What we said:

Recorded on borrowed banjos, and drawing on a genre deemed "un-cool" by many, Sigh No More's runaway success could have confounded even the world's finest trend-forecasters. It wasn't just us Brits who went Mumford-crazy either: we could practically hear our American cousins cooing over those close-vocal harmonies from here. Everyone should be delighted to learn that Babel finds the unlikely folk idols sticking firmly to that Brit Award-winning formula. Think rollicking, fiddle-flecked, horn-embellished, stadium anthems and touching, banjo-driven ballads, with the odd cheeky expletive thrown in, 'Little Lion Man'-style.
| Track Number | Track Title | Track Length | Track Price/Buy Link |
| --- | --- | --- | --- |
| 1 | Babel | 3:27 | |
| 2 | Whispers In The Dark | 3:15 | |
| 3 | I Will Wait | 4:36 | |
| 4 | Holland Road | 4:13 | |
| 5 | Ghosts That We Knew | 5:39 | |
| 6 | Lover Of The Light | 5:14 | |
| 7 | Lovers' Eyes | 5:21 | |
| 8 | Reminder | 2:04 | |
| 9 | Hopeless Wanderer | 5:07 | |
| 10 | Broken Crown | 4:16 | |
| 11 | Below My Feet | 4:52 | |
| 12 | Not With Haste | 4:07 | |
| 13 | For Those Below (Bonus Track) | 3:35 | |
| 14 | The Boxer (Bonus Track) | 4:03 | |
| 15 | Where Are You Now (Bonus Track) | 3:40 | |
Duration:

1:03:29
Genres:
℗ 2012 Mumford & Sons, under exclusive license to Universal Island Records, a division of Universal Music Operations Limited
© 2012 Mumford & Sons, under exclusive license to Universal Island Records, a division of Universal Music Operations Limited